X-Guide's 3D Navigation
The Future of Implant Technology
Dental implants are often the best solution to restoring smiles that are missing teeth. Recent technological advances have improved the accuracy of implant placement and increased the overall satisfaction of our patients.
What is X-Guide Dynamic 3D Navigation?
X-Guide, the newest and most advanced 3D navigational system, allows our surgeons to place dental implants with an unsurpassed level of precision and control. Adding this latest form of digital scanning software to our current capabilities at Farber Center For Periodontics & Dental Implants has significantly enhanced the effectiveness of our cone beam 3D imaging.
Computer-guided dental implant surgery is a new and exciting field of dental surgery, and X-Guide is a tool that allows our surgeons to see – via a computer screen – into your mouth as they operate. X-Guide scans, navigates, and—much like a GPS—directs our surgeons to exact locations as they plan and perform surgery.
The Result:
The ability to deliver a more desirable functional and aesthetic outcome during your implant surgery.
The X-Guide Process
X-Guide is an interactive system which aids our surgeons in improving the precision, angle, and depth of each implant placement. Drs. Farber, Batalias or Chondrogiannis are able to confidently make and use a 3D treatment plan by accessing X-Guide's live, 360-degree view of drill position and oral anatomy. This cutting-edge technology assists in our achieving consistent and desirable results, as it provides our surgeons with one dynamic focus point: the screen. There are five simple steps in the process of implementing X-Guide.
Our office makes an impression on your teeth with an X-Clip.
The X-Clip is used when we take a 3D scan of the particular area in question.
We use the X-Guide software to plan your implant restoration.
A tracking device is placed in your mouth, and another is attached to the instrument the surgeon will be using during surgery. Both are registered to the X-Guide system.
Our periodontists perform surgery with the previously created plan and under real-time computer guidance.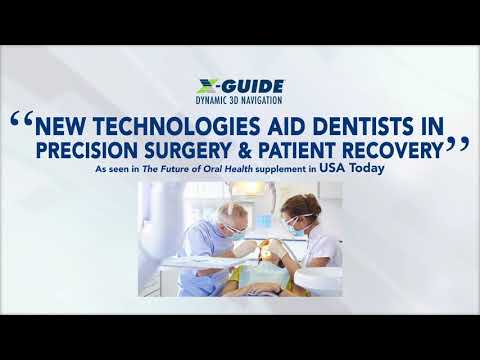 The Benefits
X-Guide provides a variety of benefits for our oral surgeons and our patients. This advanced technology:
Saves time.
Improves accuracy.
Provides same-day surgery options.
Allows for complete treatment in one location.
Requires minimal incisions.
Reduces cost.
X-Guide is simply a tool that requires the skill and experience of an expert implantologist. Combining the latest advances in technology with the expertise of Drs. Farber, Batalias, Chondrogiannis or Wang, we have truly seen an increase in overall patient satisfaction and happy, healthy smiles. Call us today to find out more about X-Guide, Hauppauge Office Phone Number 631-265-4442 in Hauppauge, or Medford Office Phone Number 631-758-3700 in Medford.
Ready to Replace Your Missing Teeth?
Call us with any questions or to make an appointment.